TRC 0-1060-002 Replacement Card for 1060
Designed specifically for the Rainbird© ESP MC, SAT or Maxicom irrigation controller, this permanent receiver card is the ideal addition to your Rainbird© ESP MC, SAT, or Maxicom irrigation controller. Easy installation and simple operation make it the commercial contractors ultimate labor saving solution for wireless controller operation. The receiver card allows the operator to control operation at any time without having to approach the controller. The TRC Commander Transmitter is the only transmitter designed to operate TRC Irrigation Remotes permanent receiver cards. The TRC Commander Transmitter is a completely portable professional grade wireless transmitter. Backed by a THREE YEAR limited warranty, TRC Irrigation Remotes permanent receiver cards are designed to provide the irrigation professional with years of trouble free service.
TRC Commander Transmitter is the most popular transmitter in the irrigation industry. With a transmitting power of 2 Watts, and the capability of 5 miles range*, The Commander Transmitter is an invaluable tool for any irrigation professional.
*The Range of all Radio products is dependant on local conditions and antenna selection/location.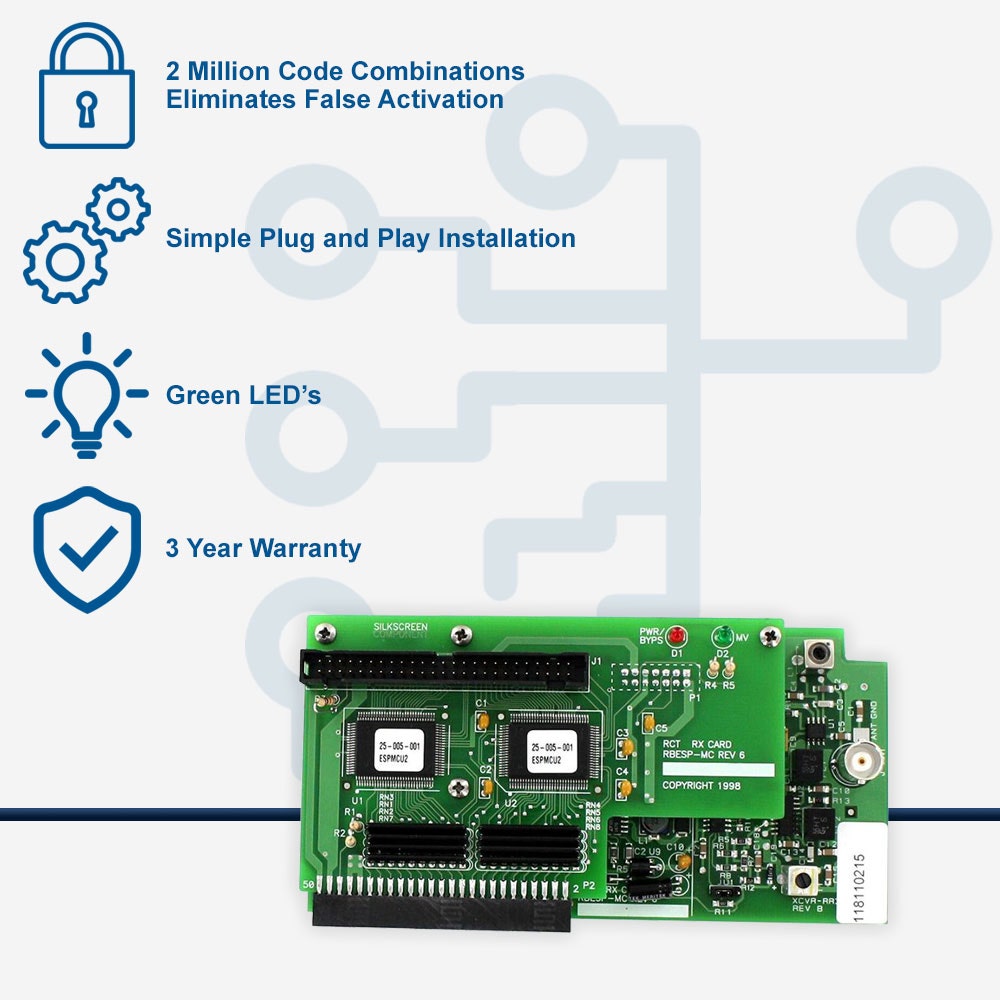 Product Details
40 Station Operation - The permanent receiver card system for the Rainbird© ESP MC, SAT or Maxicom Controller will operate up to 40 stations.
Silent Running - Allows remote activation of "Rain-Off Mode". Remotely disable all stations for 1-7 days without reprogramming the controller.
Simple Operation - No complicated valve wire harness (pig-tail) installations. Simple plug and play installation.
Three Year Warranty - Demonstrates our commitment to high quality.
Master Valve or Pump Disable - Easily disable the master valve for system maintenance.
Multiple Valve Operation - Operates up to 6 valves and a Master Valve.
Two Million Receiver Code Combinations - Eliminates false activation.
Automatic Safety Shut Down - Automatically turns off stations after 20 minutes.
Illuminated Power on Indicators - Red Power and Green Master valve on LED's.
Note: 01060 Receiver Card is not compatible with the Par Plus© controller.
Antenna Installation Best Practices
We recommend the following practices to achieve a successful wireless communication range using the TRC Irrigation Remotes antennas in any location as long as the installation best practices are observed. Your range will be maximized by following these guidelines:
Mount the antennas at least 40 feet away from electric motors, large power transformers, power lines, VFDs or any equipment that produces ambient electrical noise. Otherwise, the receiver may have trouble distinguishing the FM transmitter signal from this noise.
Mount all antennas outdoors. Our irrigation remote systems (both FM transmitter and receiver) communicate in the RF radio frequency spectrum at 27 MHz. This frequency has great characteristics for long range but the signals will not go through walls. For equipment located indoors, run a length of RG-58 coaxial cable from the receiver to an antenna mounted outdoors.
Mount antennas as high as possible, at least 3 feet away from vertical surfaces and not under roof awnings.
Use only high-quality antenna and cable connectors, which are available from TRC Irrigation Remotes.
Do not loop excess coax cable into a coil. This will cause a RF radio frequency choke and reduce your signal range. If you can, loosely route it back and forth in an "S" configuration.
We found other products you might like!