Hunter MP Rotator 90 - 210 Degree Adjustable Rotary Nozzle 31 - 35 ft
Spray Radius: 31-35 feet
Spray Patterns: 90 - 210 degrees
Max PSI: 55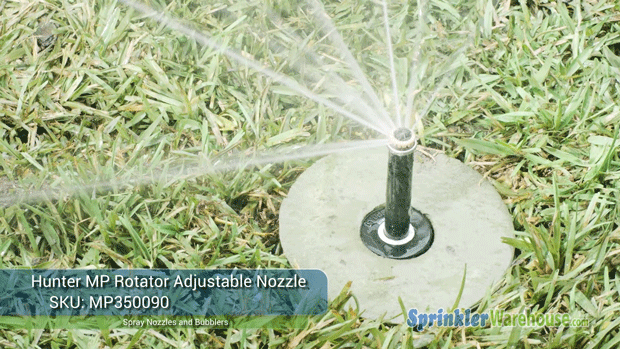 The revolutionary MP Rotator features a unique, multi-trajectory rotating stream delivery system that achieves water-conserving results. Rather than simply "spray" water onto landscapes, MP Rotators deliver multiple streams of water at a steady rate. This slower application rate allows water to gently soak into the soil and achieves an even distribution throughout the area being irrigated. This increased efficiency results in 30% less water use when compared to traditional sprays and significantly reduces wasteful runoff. The MP Rotator can be installed onto any conventional spray head body or shrub adapter, transforming them into high uniformity, low precipitation rate sprinklers with matched precipitation at any arc and any radius.
The MP Rotators are a great choice for new systems, as they provide immense range flexibility (from 5' strip to 35' radius), decrease material costs, and provide better system efficiency. MPs are also perfect for revitalizing older systems — a retrofit can solve both low pressure and poor coverage problems.
The MP Rotator uses multi-stream, multi-trajectory technology to achieve optimal water-conserving results. Rather than simply spraying water onto landscapes, MP Rotators deliver streams of water at slower rates that soils can better absorb, significantly reducing runoff. It is a breakthrough solution in irrigation technology, enabling levels of conservation that are increasingly necessary.
A Smarter Way to Water
The MP Rotator offers superior coverage compared to traditional sprays, with true matched precipitation at any arc or radius. The slower application rate requires run times to be twice that of traditional sprays, significantly reducing runoff — it's the perfect solution for slopes and dense soils. This increased efficiency results in 30% less water use when compared to traditional sprays.
Features & Benefits
True matched precipitation any arc or radius setting
Radius can be reduced up to 25% on all models
Color-coded for easy identification
Double-pop feature keeps dirt and debris out of nozzle
Removable filter screen ensures hassle-free service
Low precipitation rate
Automatic Matched Precipitation
The MP Rotator® has the unique ability to control the amount of water flowing through the nozzle at various arc and radius settings, resulting in matched precipitation regardless of the nozzle setting.
Double-Pop
The MP Rotator's nozzle pops up from its protected position only after the riser is fully extended, providing superior defense against dirt and debris.
Distribution Uniformity
The various streams of the MP Rotator allow it to target all areas of the landscape evenly, yielding superior uniformity over traditional spray nozzles. Each stream targets specific areas to achieve higher efficiency and even coverage.
Low Precipitation Rate
The standard MP Rotator line applies water at 0.4 in/hr, while the MP800 has a precipitation rate of 0.8 in/hr. Either choice will avoid runoff, saving water and preventing erosion.
Reliable Operation
Patented double-pop nozzle keeps the sprinkler free of external debris.
Accurate Adjustments
Adjustable arc and radius with matched precipitation. Radius can be reduced up to 25%.
Efficient Application
Multiple rotating streams provide even coverage and wind resistance, eliminating dry spots.
Durable
Removable inlet filter keeps sprinkler free of internal debris.
Easy Installation
Compatible with all spray bodies; perfect for retrofits. Use the MP-HT for female-threaded spray bodies.
Product Details
Operating Specifications
Recommended operating pressure: 40 PSI
Recommended filtering when operating on dirty water
Options
Pair with Pro-Spray PRS40 to achieve pressure regulation at the head of 40 PSI
Adding "HT" will specify male threaded nozzles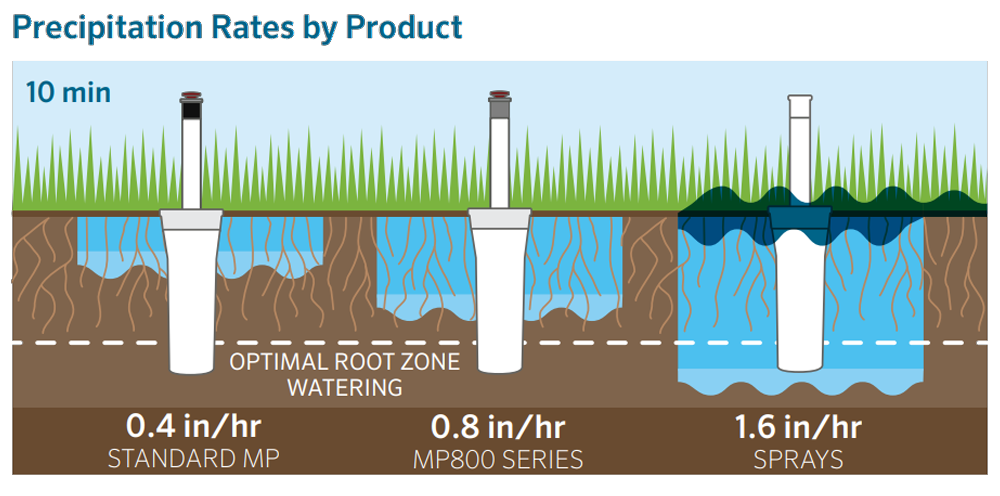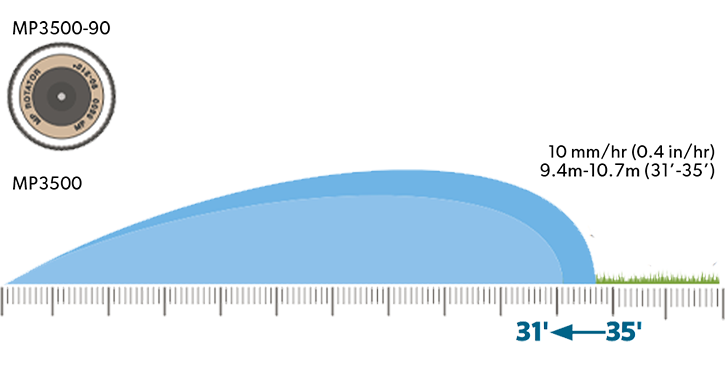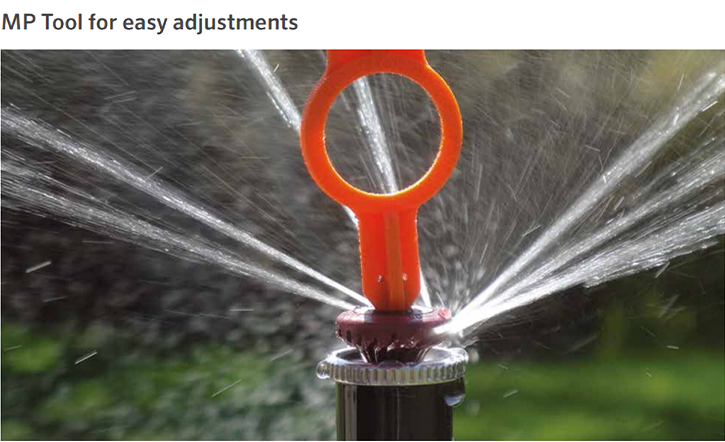 MP350090 31' - 35' (9.4 to 10.7m)
Arc
PSI
Radius ft.
Flow GPM
Flow GPH
Precip In/hr
Precip In/hr
25
33
1.04
62.4
0.37
0.42
30
34
1.13
67.8
0.38
0.43
35
34
1.21
72.6
0.4
0.47
40
35
1.28
76.8
0.4
0.46
45
35
1.38
82.8
0.43
0.5
50
35
1.43
85.8
0.45
0.52
55
35
1.5
90
0.47
0.54
25
33
2.21
132.6
0.39
0.45
30
34
2.24
134.4
0.37
0.43
35
34
2.65
159
0.44
0.51
40
35
2.86
171.6
0.45
0.52
45
35
3.1
186
0.49
0.56
50
35
3.21
192.6
0.5
0.58
55
35
3.28
196.8
0.52
0.6
25
33
2.59
155.4
0.39
0.45
30
34
2.84
170.4
0.41
0.47
35
34
3.08
184.8
0.44
0.51
40
35
3.29
197.4
0.44
0.51
45
35
3.54
212.4
0.48
0.55
50
35
3.76
225.6
0.51
0.59
55
35
3.94
236.4
0.53
0.61
Bold = Optimal pressure for the MP Rotator is 40 PSI. This can easily be achieved by using the MP Rotator with the Hunter Pro-Spray PRS40 pressure regulated at 40 PSI.
Related Articles & Videos
Articles
Videos
We found other products you might like!