Rain Bird® Center Strip Stream Bubbler Nozzle 5 ft
Trusted for decades, Rain Bird® MPR Nozzles are installed by more contractors than all other brands combined. MPR Nozzles simplify the design process by allowing sprinklers with various arcs and radii to be mixed on the same circuit while maintaining even water distribution rates. This allows them to spray an equal distance, and to provide an equal amount of water to a given area. MPR nozzles are designed to provide uniform coverage, ensuring that your lawn is green throughout, with no dry or brown spots. They fit all Rain Bird spray heads and shrub adapters.
A wide selection of MPR nozzles are available so the distribution of water can be tailored to meet the unique and diverse needs of your landscape.
Sort Quicker, Install Faster, Check Easier!
Rain Bird MPR Spray nozzles are color-coded on the top to enhance your productivity.
Quickly identify radius and arc with Top Color-coded™ nozzles.
Top Color-coding makes it easy to verify proper nozzle installation, even when system is not operating.
Now it's easier to sort, easier to organize, and easier to install with Top Color-coded nozzles.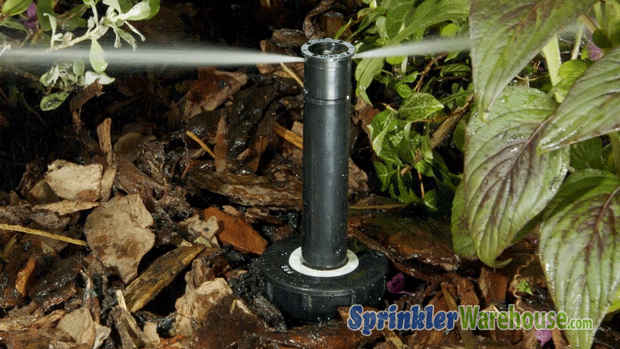 Product Details
5 ft. center-strip stream bubbler MPR nozzle
Matched precipitation rates across sets and across patterns in 5 Series, 8 Series, 10 Series, 12 Series, and 15 Series for even water distribution and design flexibility
Blue fine-mesh (.02" x .02") filter screens (shipped with nozzles) maintain precise radius adjustment and prevent clogging
Stainless steel adjustment screw to adjust flow and radius
Fits all Rain Bird sprinklers and shrub adapters
Meets small-area shrub or turf requirements
unuseable
when they say stream that is all this is is two streams going out five feet and landing is a single spot. what it waters is a two inch spot of ground on each side which it digs a hole into the ground. everything between the head and the landing zone gets no water at all. I am throwing away all the ones I have bought as useless. do not even know why they even manufacture them.
July 18, 2017
Purchased
over 3 years ago
Throws too far
Throws each stream about 12-15 ft away at 30 PSI. Adjusting it down with the screw makes the two streams unequal.
July 15, 2020
Purchased
3 months ago
Browse 4 questions
Browse 4 questions and 6 answers
is the pattern rectangular about 10 ft. X 30 inch with the head in the center like a normal center strip head?
BEST ANSWER:
No it is not. I thought the same but it turned out to be a straight stream of water. Returned them.
Jimmy B

on Feb 25, 2015

Purchased on Jul 24, 2014
I'm looking to water a maybe 2ft deep bed against my house. Is there a nozzle that sprays to each side of the sprinkler? Like this 🌺 >o< 🌺
BEST ANSWER:
Some options might be stream bubblers with a 3' radius, but if you tilt the riser down, you can achieve a 2' radius. Another option depending on the length of the planter is 15' x4' end strip sprinkle. If placed on the forward edge of the planter, 2' of the 4' spray width would simply over spray out of the planter. To minimize any overthrow, you may want to consider drip irrigation and / or micro sprayers. However you would likely need to install a small plastic pressure reducing device and a small 150 to 200 mesh filter because drip emitters can and will clog. The 5cst-b Rainbird nozzle throws a 5' radius narrow stream which is fine if you plant so that the stream hits plants dead center on the left and right such as hedges plantings. Hope this helps.
Ray
E A

on May 11, 2018

Purchased on Mar 18, 2018
Is there an image showing this nozzle in operation?
BEST ANSWER:
I couldn't find a pattern of spray so I bought some. It was not what I thought reading the info. It sprays just like a 15 foot center strip nozzle. I was looking for a 3-5 foot center or side strip nozzle. I don't think Rain Bird makes one.
Bob C

on Mar 20, 2015

Purchased on Feb 25, 2015
We found other products you might like!