Blazing Waterproof Small
Wire Connector
Protects low-voltage connections from moisture and corrosion
WIRE SIZES:Minimum 2 #24 gauge wires; Maximum 5 #18; Maximum 30 Volts / 10 Amps
Copper and/or aluminum wire; solid or stranded
Sold individually or in bag quantities of 24pcs
Silicone Sealant: -45°F to 400°F
Both waterproof and corrion proof, this pre-filled with petroleum grease wire connector is great for use with low voltage landscape lighting and or sprinkler systems. The wire nut comes with a yellow nut for wire splicing.
Features & Benefits
Waterproof and corrosion proof
Pre-filled with petroleum grease that never hardens
Easy latch lid provides strain relief; includes yellow nut for wire splicing
Yellow nut is UL Listed and flame retardant
Manufacturer approved for direct bury
For use in irrigation systems and low voltage lighting applications
Product Details
Max. Voltage: 30V, 10AMPS
Connector Size: 2" x 1.125"
Wire Type: Copper/Copper
Wire Range: Min #24/Max #18
Temperature Rating: 90°C (194°F)
Silicone Sealant Temperature: -40°F to 400°F
Installation Instructions
IMPORTANT: Turn off power before installing or removing connector. Product to be used in accordance with local and national codes.
Strip wires 3/4" and group bare wire ends together. Do not pre-twist solid wire. You must pre-twist stranded wire. If using both wire types, you must wrap stranded wire around untwisted solid wires.
Insert wires through flexible sealing fingers and bend bare wire ends together into either "V-Channel." With proper 3/4" strip length, wire tips just reach to edge of round hole below "V".
Separate connector, removing plastic "link" or "leg" from inner sleeve. Push inner sleeve into pre-filled outer sleeve until double-locked. Prefilled silicone fully waterproofs the connection. Do not reuse.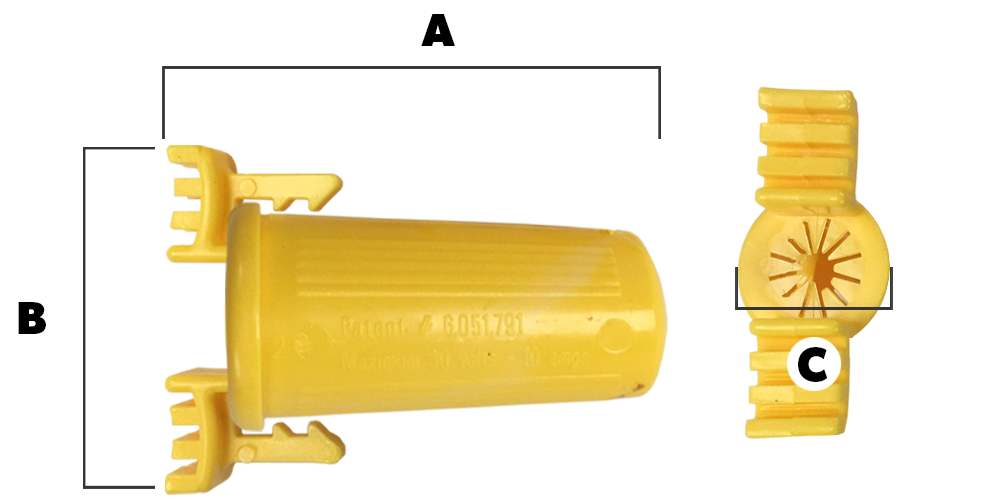 Measurements
A - 1.822"
B - 1.133"
C - 0.810"
Related Articles & Videos
Articles
Videos
Great Product
Other products left wires vulnerable to moisture, so far all is good.
Excellent item
Love them, the best I have ever seen and used. Highly recommended. Very confident they will do the job. Easy to install.
July 4, 2017
Purchased
over 3 years ago
Easy to use.
I love how easy these are to use and how they protect the system from water.
September 21, 2020
Purchased
3 weeks ago