Irritrol RainDial 1200 Indoor/Outdoor 12 Station Replacement Faceplate
Faceplate ONLY
Compatibility: Rain Dial-R Series 1200
Features & Benefits
In addition to the numerous upgrades built into this popular, long-standing controller, the optional CLIMATE LOGIC Wireless Weather Sensing System makes the Rain Dial-R a "smart" controller on the cutting edge of water management.
When governed by Climate Logic, the Rain Dial-R will automatically water more on warm or hot days and less on cooler days. Applying the right amount of water to maintain a healthy landscape, the Rain Dial-R and weather-based Climate Logic Weather System seriously reduce overwatering and its expense.
Climate Logic ready: Automatically reschedules Rain Dial-R watering based on the weather
Remote CONTROL ready: Compatible with CRR (Contractor Residential Remote) remote series
Rainsensor ready: Sensor bypass switch and terminal for sensor hookup
Three independent programs: Programming flexibility to meet the needs of a wide variety of plant material on the landscape site
Three water day choices: Any day of the week, skip days or odd/even dates. Skip days and odd/even dates have day exclusion option
Water Budgeting: For quick changes to the watering durations of all stations on a program at one time or pre-set a change in water budget for each month.
365-day calendar for Odd/Even date watering: Meets the odd/even date watering mandates often used for landscape water reductions
Water well recovery (delay between stations) Option of pump circuit ON or OFF during
Master Valve/Pump Start circuit Assignable per station: Stations requiring a booster pump can be supplied while other stations can run on street water pressure
Test All Stations program: Allows a quick test of all stations from lowest to highest number
Clear/erase memory by program. Saves time by quickly erasing only the program desired
Program stack or overlap option. Allows three programs/stations on at once or restricts operations to no overlapping station runs
Product Details
Operating Specifications
Station run times: 1-59 minutes in 1-minute increments or 1-5.9 hours in .1-hour (6 minute) increments
Start times: 3 per program per day for 9 starts total
Watering schedules per program
Any day of the week: Skip days from 1 to 31 days between irrigation days. Odd or even date watering
Dimensions
Outdoor: H: 7 ½, W: 10 ½, D: 4 ½
Indoor: H: 7 ½, W: 7 ½, D: 3 ½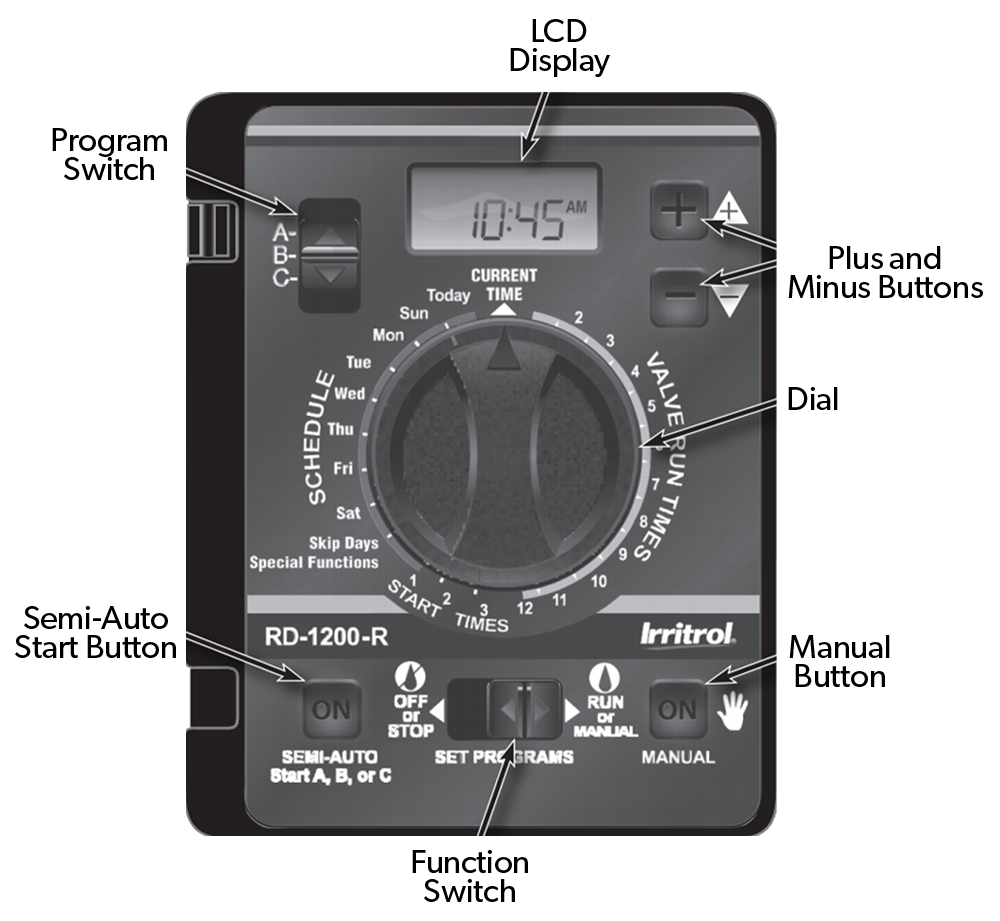 Overview: Control Module Interface
Program Switch Three-position slide switch used to select Program A, B or C for setup, program review and manual operation.
LCD Display High-contrast LCD panel displays all controller programming and operating information.
Plus and Minus Buttons Push buttons used to increase and decrease display values during controller setup, programming and manual operations. Adjusts values incrementally (press and release) or by rapid scrolling (press and hold).
Dial A 25-position rotary switch used to select stations, start times, watering days and special functions for setup, programming and manual operations.
Manual Button Push button used to start and control manual operations by station. Also serves as a "Next" button to step forward through various setup, programming and manual operations.
Function Switch A three-position slide switch used to select one of three controller function modes: Off or Stop - Stops all current watering operations, and prevents all automatic and manual operations. Set Programs - Enables automatic watering program setup values to be selected and changed. Run or Manual - Normal switch position for all automatic and manual watering operations.
Semi-Auto Start Button Push button used to manually start an automatic watering Program. Also used to initiate the Station Test Run operation.
RainDial 1200 Indoor & Outdoor