Rain Bird 3504-PC 4 in. Pop-Up Adjustable Arc Rotor
Rain Bird Rotor (3504-PC)
Series: 3500
Pop-Up Height: 4 inch
Check Valve: No Seal-A-Matic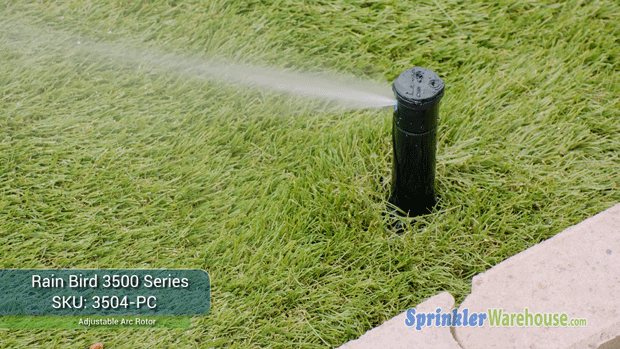 The Rain Bird 3500 Series Sprinkler Head is feature-packed and convenient irrigation rotor ready to take on the everyday requirements of residential and light commercial sprinkler systems.
The Rain Bird 3500 Series Rotor offers gear-drive technology for short to mid-ranges and adjusting the rotor's arc is a snap when using a flat head screwdriver. The versatility this rotor offers is second to none. With a nozzle tree of six Rain Curtain nozzles and the capability of reversing full and part circle operation, the Rain Bird 3500 Series Rotor offers versatility and convenience in one package. But that is just the tip of the iceberg with the Rain Bird 3500 Series Rotor!
Features & Benefits
Includes:

1 complete set of standard nozzles per rotor
1 Set of Instructions (1 per shipment)
Adjustment tool not included since standard flat-head screwdriver is sufficient

Top-adjust arc adjustment requiring only a flat-blade screwdriver
Three year professional customer satisfaction policy.
Shrub and 4" models available
True 4" (10 cm) pop-up (measured from center of nozzle)
40- 360 degree Arc Part-Circle arc rotation and reversing Full-Circle rotation in one
Attachable nozzle tree of six Rain Curtain nozzles
Radius adjustment screw allows up to 35% radius reduction without changing nozzles
Quick Check Arc/Fast Forward
Dual action; positive stop wiper seal protects internals from debris and assures positive pop-up and retraction
Self-adjusting stator does not require replacement when changing nozzles
Water-lubricated gear-drive design for durable; reliable operation
Easily removable filter screen
Nozzle removal feature
Arc setting factory preset at 18 degrees for installation convenience
Optional non-potable cover for easy identification of reclaimed water
Optional Seal-A-Matic (SAM) check valve holds up to 7 feet (2;1m) of elevation change; to prevent puddling and erosion caused by low head drainage
Product Details
Precipitation rate: .37 to .72 inches per hour (9 to 18 mm/h)
Radius: 15 to 35 feet (4;6 to 10;7 m)
Radius may be reduced up to 35% with Radius Reduction Screw
Pressure: 25-55 psi (1;7 to 3;8 Bars)
Flow Rate: .54 to 4.6 gpm (;12 to 1;04 m 3/h)
1/2" NPT female bottom threaded inlet
Reversing Full-and Part-circle adjustment 40 degrees - 360 degrees
Pop-up height shrub: 4" (10;2 cm)
Overall body height shrub: 6.6" (16;8 cm)
Exposed surface diameter: 1.16" (2;9 cm)
Note: Pop-up height measured from cover to center of nozzle. Overall body height is measured popped down.
Part Circle Adjustable (40 - 360)
Browse 13 questions
Browse 13 questions and 42 answers
We found other products you might like!