Rain Bird 5004-PC 4 in. Pop-Up Adjustable Arc Rotor
Series: 5000
Pop-Up Height: 4 inches
Rain Bird Pop-Up Adjustable Arc Rotor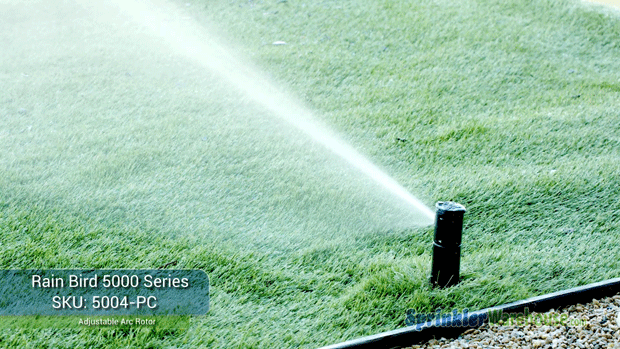 Features & Benefits
The Rain Bird 5000 Series Rotor is designed to deliver superior water distribution and larger water droplets, eliminating tough dry spots.
The 5000 Series Rotor is a rugged mid-range gear-drive rotary sprinkler, offering durability, great performance, and the convenience of arc adjustment from the top. This versatile rotor offers a standard rubber cover and the convenience of reversing full-and part-circle operation (up to 360 degrees) in one unit. And, with a tree of Rain Curtain nozzles, the 5000 Series Rotor offers excellent distribution for top-notch efficiency. All of this and a proven gear-driven design, is what makes the 5000 Series Rotor one head that will Take Performance to the Top.
Includes:
1 complete set of standard nozzles per rotor
1 Set of Instructions (1 per shipment)
Adjustment tool not included since standard flat-head screwdriver is sufficient
The 5000 Series Rotor Sprinkler is available in 4", 6", 12" and Shrub models.
Standard Rubber Cover for extra protection and easy identification.
Heavy-duty cover assembly for extra durability in residential and commercial applications.
Enhanced Rain Curtain Nozzles: Increased radius range with less flow per nozzle, New Micro-Ramps for superior close-in watering, Nozzle Extraction Feature for easy rotor maintenance
Heavy-duty retractable spring assures positive pop-down
Tree of nozzles including low angle (Angle of trajectory 10 degrees) and standard angle Rain Curtain nozzles (Angle of trajectory 25 degrees) provides 25 to 50 ft (7 to 15,2 M) distance of throw.
Top-adjust arc adjustment requiring only a flat-bladed screwdriver
Water-lubricated gear-drive design for durable, reliable operation
40- 360 degrees Arc Rotation for reversing Full-and Part-Circle rotation in one. A non-reversing full circle only unit is also available.
Radius adjustment screw allows up to 25% radius reduction without changing nozzles
True 4" (10 cm) pop-up (measured from the case cover to the nozzle)
Pressure activated multi-function wiper seal protects internals from debris and assures positive pop-up and retraction
Reinforced flow path for additional side load strength
Additional o-rings and seals for extra protection in "gritty" water
Here at Sprinkler Warehouse, we have carried the Rain Bird family of products for many years. You will be able to find the parts you need to help keep your sprinkler system running like new. The Rain Bird 5000 adjustment is part of a series of products used for adjusting your sprinkler head.
As with most of the sprinkler parts you may need to repair or replace, the Rain Bird 5000 adjustment is easy to install. It is preferred by many of our customers because:
It takes only four steps to install.
The product adjusts the arc.
It is incredibly economical.
It bears the trusted Rain Bird name.
Whether you are a professional landscaper or a weekend warrior landscaper, our customers have been pleased with the Rain Bird 5000 adjustment and the 5000-plus series. They turn to us when they require replacement valves, rotors, nozzles, sprinkler heads, and more.
Product Details
Precipitation rate: .20 to 1.01 inches per hour (5 to 26 mm/h)
Radius: 25 to 50 feet (7,6 to 15,2 m)
Radius may be reduced up to 25% with radius reduction screw
Pressure: 25-65 psi (1,7 to 4,5 bar)
Flow Rate: .73 to 9.63 gpm (0,17 to 2,19 m3/h)
3/4" (20/27) NPT female bottom threaded inlet
Reversing full-and part-circle adjustment 40 - 360 degrees
Dimensions
Pop-up height: Shrub: 4" (10 cm); 6" (15 cm); 12" (30 cm)
Overall body height: Shrub: 7 3/4" (19,7 cm), 4": 7 3/8" (18, 5 cm); 6": 9 5/8" (24,5 cm); 12": 16 7/8"(42,9 cm)
Exposed surface diameter: 1 5/8" (4,1 cm) *Note: Pop-up height measured from cover to the nozzle. Overall body height is measured popped down.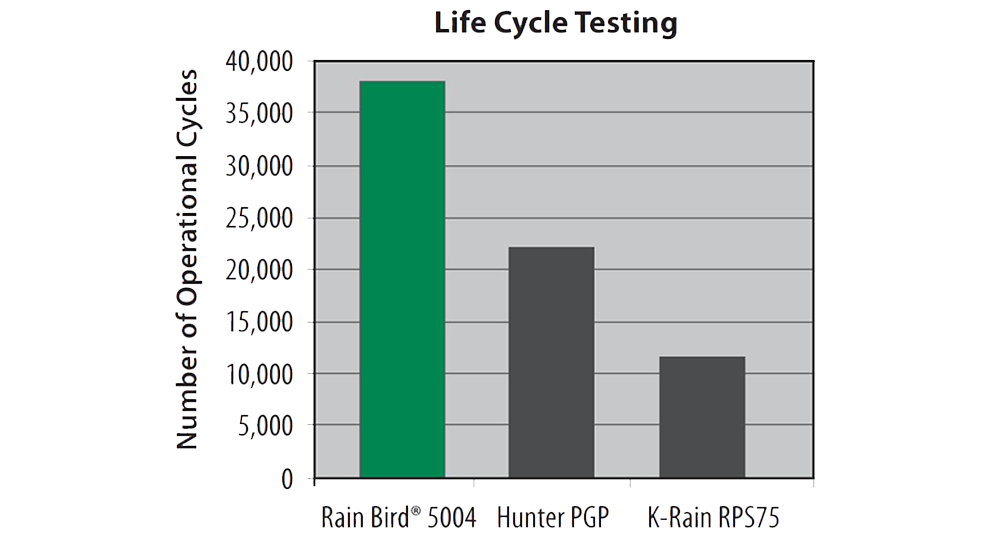 Longer Life - Life Cycle Test Description:
This test simulates the number operational cycles that a rotor sees during life.
Test Result:
Testing proves that Rain Bird rotors have the longest operating cycle life of any rotor on the market. Specifically, Rain Bird 5000 Series lasts nearly twice as long as the Hunter PGP
One Possible Solution to Sprinkler Head Layout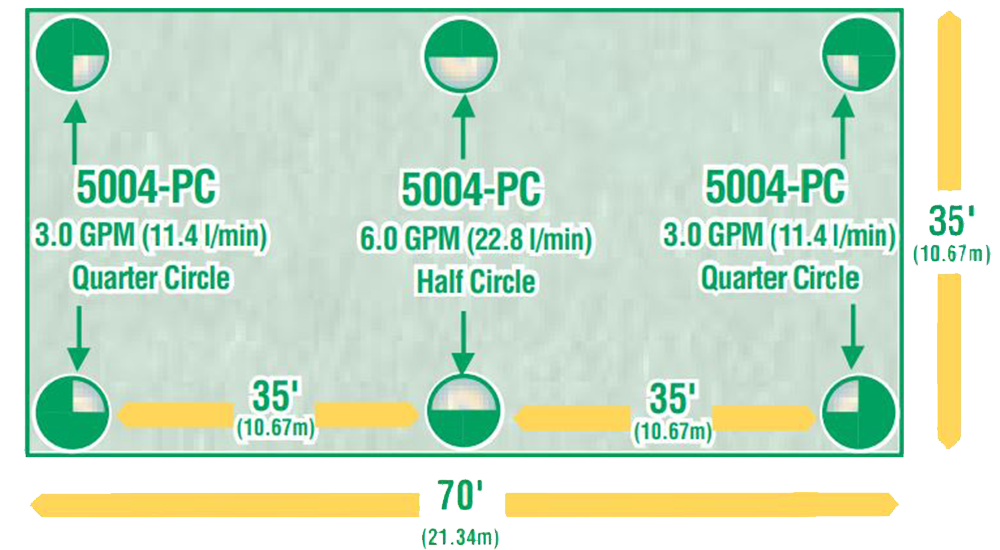 Related Articles & Videos
Articles
Videos
Part Circle Adjustable (40 - 360)
Residential And Commercial
Part Circle Adjustable (40 - 360)
We found other products you might like!