Rain Bird ESP TM2 & 4ME Wi-Fi Module
Product Type: Wi-Fi Module
Compatibility: ESP TM2 & 4ME Controller
Features & Benefits
The Rain Bird you know and love, but smarter. The LNKWIFI connects to the new ESP-TM2 controller, and the new faceplate for the ESP4ME controller. Simply plug the LNKWIFI in and begin to customize every zone, reap the benefits of automatic seasonal adjustments, share access with other family members or contractors, delay your watering, receive notifications for events, and effectively communicate with your yard from anywhere.
The New Rain Bird LNK WiFi Module allows easy access and control of a Rain Bird irrigation system from anywhere in the world. With the LNK WiFi Module and Rain Bird's FREE mobile app, users get access to off-site management, real-time alerts and advanced water management tools via their smart phone or tablet.
Always Connected
Rain Bird puts control over your sprinkler system in the palm of your hand. Whether you're outside in the garden or away from home, you're always connected to your landscape.
Save Water. Save Money. All Year Long.
Automatic Seasonal Adjustments reduce water usage by as much as 30%, lowering your monthly water bill.
Fully Customizable
Set multiple start times and unique watering durations for each zone using your tablet or smartphone. You can even upload photos of your yard. You have total control.
Locally Accurate
Access local weather data from the Internet, or directly via an optional rain sensor. No matter which "cloud" you use, you're sure to save water.
Notification Alerts
Unlock the information inside your controller, and use it to better manage your water usage. Get freeze warnings and seasonal adjustment notifications on your smartphone or tablet.
Control Multiple Timers
Using the Rain Bird app, you can control multiple timers located anywhere in the world. Install the Rain Bird app on multiple devices, or securely share control with other family members, landscapers, and more.
Product Details
Compatible with ESP-TM2 and ESP4ME* Series controllers
Only compatible with NEW ESP4ME faceplate
Mobile Device Compatibility: Apple iOS version 8 or greater, Android devices 4.4 (KitKat) or later.
Wireless Networks Supported: 2.4 GHz 802.11b/g/n channels
Control Your Sprinklers With Your Voice!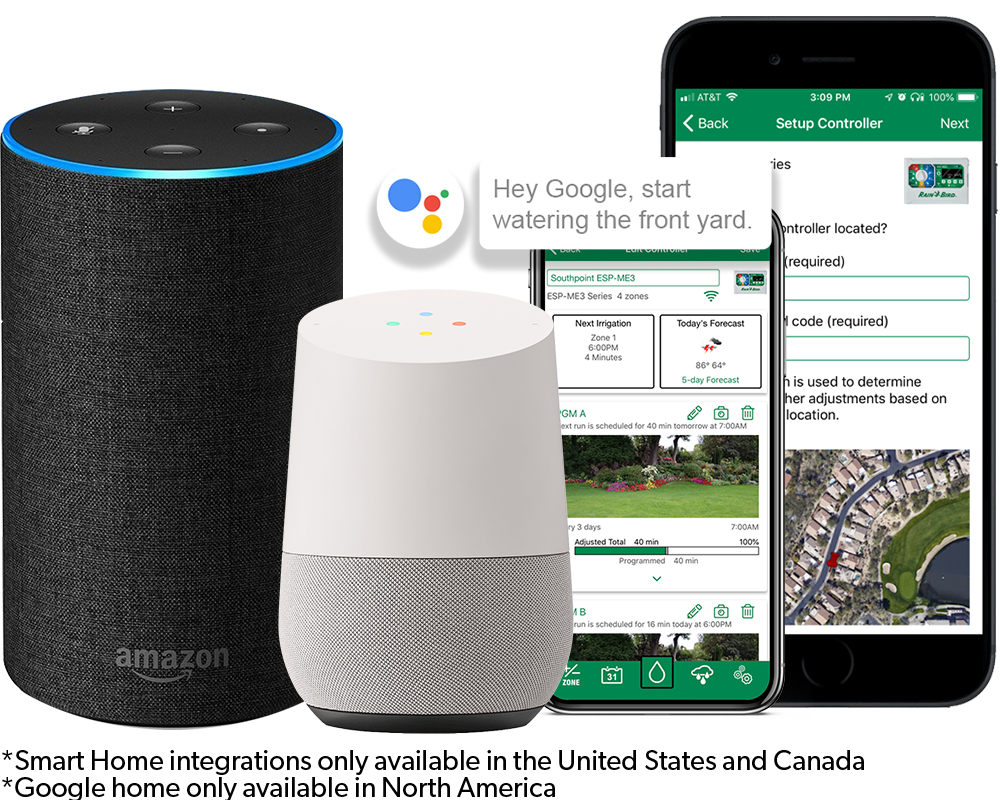 Homeowner WiFi Setup Instructions
Step 1
Step 2

Download the Rain Bird app (available on the App Store and Google Play

Ensure strong WiFi signal strength at the controller. NOTE: Ensure that you are using the 2.4GHz frequency WiFi channel (5.0GHz not compatible) and 802.11 b/g/n router. If necessary, improve signal strength by moving the router closer or using a signal booster.

Step 3
Step 4

Press the button on the LNK WiFi Module. The light blinks GREEN and RED to indicate hotspot mode.

Locate and connect to the Rain Bird network in the phone/tablet's WiFi settings menu.

Step 5
Note:

Open Rain Bird app and select Add Controller (bottom left of screen), then follow Setup Wizard.

Information you will need for setup

WiFi network name (SSID)
WiFi network password
Email address
Residence Zip Code