Rain Bird SPB-025 1/4" in. Self-Piercing Barb Connector
Designed to deliver a smooth and predictable flow to your plants, button emitters require water to travel through a complex pathway before being expelled. The design ensures that large changes in pressure will only cause a gradual but relative change in flow to plants. Button emitters are less prone to clogging due to their complex internal water path design.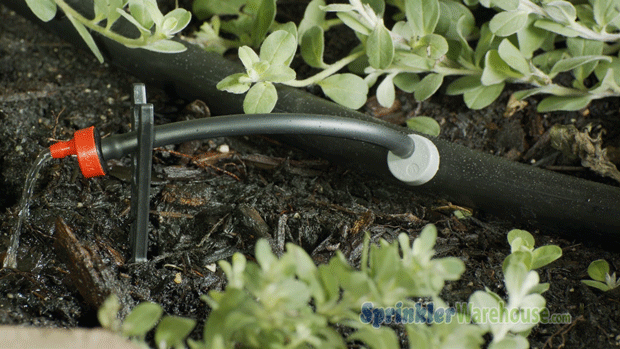 Self-piercing barb inlet can be inserted into distribution tubing using a XM-Tool or Bug Gun (EMA-BGX) to provide a transfer fitting for 1/4" in. distribution tubing (DT-025 or PT-025).
Outlet barb accepts 1/4" in. distribution tubing (DT-025 or PT-025)). Gray outlet barb indicates unit has unrestricted flow.
Operating Range:
Pressure: 0 to 50 PSI (0 to 3;5 bars)
Models:
Browse 3 questions
Browse 3 questions and 9 answers
I have a simple question: which end is which on this item? That is, there is a sharp and a dull end. I am going to insert one end into my main drip line. Which one is it? Then, I am going to attach 1/4" tubing that runs to a plant. I am going to then attach another one at the far end of the tubing (although this one will be regulated to drip at 1 gph). Again, which end goes in the tubing, and which end faces the plant?

Many thanks for your help.
BEST ANSWER:
The water flows into the sharp end and out though the dull/cylindrical end.

Having the supply side be sharp is what makes these better than other brands. The sharp tip pierces through the 1/2" or 5/8" supply tubing. With other drip regulators you must use a tool to make a hole in the supply tubing and then insert the regulator into it.

Rain bird makes a purple colored tool to hold the regulator and punch it into the supply tubing. Also see their website for more info.
Why use self piercing emitters instead of usual adapting plug from 1/2 to 1/4 line?
We found other products you might like!