Rain Bird ESP-Me 4 Station WiFi Ready Indoor Controller
Rain Bird ESP-Me4 Indoor/Outdoor Controller
4 Stations
Wifi Ready (LNK Wifi Module NOT included)
Features & Benefits
The ESP-4MEI takes the best parts of previous controllers in the Rain Bird line and combines them with added features and benefits to make the controller one of the most powerful and user friendly devices Rain Bird has ever created. Perfectly suited for a myriad of residential situations the ESP-4ME allows for as many as 22 stations (zones) to be added to its base 4-zone configuration. The ESP-Me line of controllers in as close to a universal solution as any controller on the market.
Customizable Watering Schedules
ESP programming makes setting up each controller to meet the needs of the landscape easier than ever before. Time is money with Rain Bird helps you keep time on your side.
One-Solution for All
Tired of learning and re-learning how to program and operate a new controller on every job. The ESP-Me controller has all the functionality and features you need to make it a one stop shop for all your controller needs. Big or small, simple or demanding, Rain Bird has got your covered.
Postpone Watering
Sometimes the rain comes down and does the watering for you does your current controller take note of the precipitation and adjust for it in the watering schedule. The ESP-Me does. So go ahead and plan that party as far as 14 days in advance Just tell your controller to keep things dry on the days before and the day of the event and it will postpone the watering and automatically restart it's normal schedule the following day.
Bypass Rain Sensor by Station
Rain Sensors are a tremendous invention and they are improving year by year to be more and more smart. However, they fall short in that they control the entire system, not zone by zone. Got Maybe you have an area of your yard that won't receive rainfall the way the rest if the yard does. The ESP-Me controller allows you to identify these special area in your yard, allowing them to water as usual even when the rain is coming down and the other zones are taking a break.
Adjust Watering Up or Down by Percentages
Setting up the perfect watering schedule takes time and finesse. Once you have it just right, the last thing you want to do change up your whole schedule just to meet the needs of a new season. ESP-Me controllers let you increase or decrease your current watering schedule on a percentage basis.
Total Run Time Calculator by Program
There is nothing worse than walking out to the mailbox and having the sprinklers turn on when you are in the middle of the yard! Rain Bird incorporates a total time function into the controller that lets you see how long the entire watering cycle takes and lets you move it up or back accordingly so that your kids don't get a sprinkler-surprise on their way out to catch the bus!
Advanced Warning System
The ESP-Me visually notifies you of problems in the wiring or electronics of the controller by displaying a a bright red LED as well as a scrolling message on the front LCD display panel.
One-Button Watering
Start your system at the drop of a hat with the single push of just one button. No more fiddling with adjustments and overrides, get right to the point with ultimate simplicity.
Contractor Default
Customers and Contractors alike love us for inventing and installing the Contractor Default feature. Just like a factory reset, except it restores the controller back to the optimal programming input by the contractor. Now if a customer fiddles with the settings, you don't have to return to their property to restore the proper watering schedule. Win-Win.
Legendary Rain Bird Design
Rain Bird's famous ESP (Extra Simple Programming) and reliability make this controller a surefire winner.
Control Your Sprinklers With Your Voice!*
Note: Smart Home and Wifi features require the Rain Bird LNK Wifi Module plug in (Sold Separately)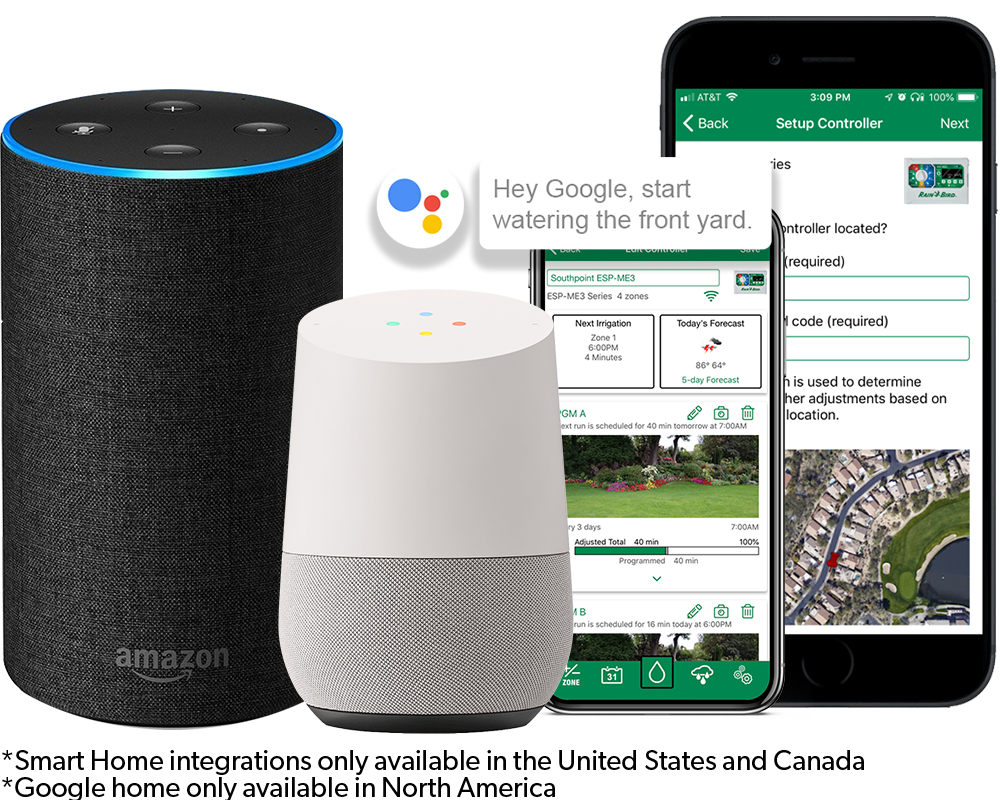 Product Details
Controller Dimensions
Width: 10.7 in. (27.2 cm)
Height: 7.7 in. (19.5 cm)
Depth: 4.4 in. (11.2 cm)
Station timing: 1 minute to 6 hours
Seasonal Adjust; 5% to 200%
Max operating temperature: 149°F (65°C)
Input required: 120 VAC 10%, 60Hz (International models; 230/240 VAC 10%, 50/60Hz )
Output: 25.5 VAC 1A
Master Valve/Pump Start Relay Operating Voltage: 24VAC 50/60Hz Max Coil Inrush: 11VA Max Coil Holding: 5VA
Idle/Off power draw 0.06 amps at 120VAC
Power back-up not required. Nonvolatile memory permanently saves the current programming and a 10 year life lithium battery maintains the controllers time and date during power outages.
UL, cUL, CE, CSA, C-Tick, FCC Part 15b, WEEE, S-Mark, IP24
Note* This controller is NOT compatible with the HUNTER PSR22 and PSR52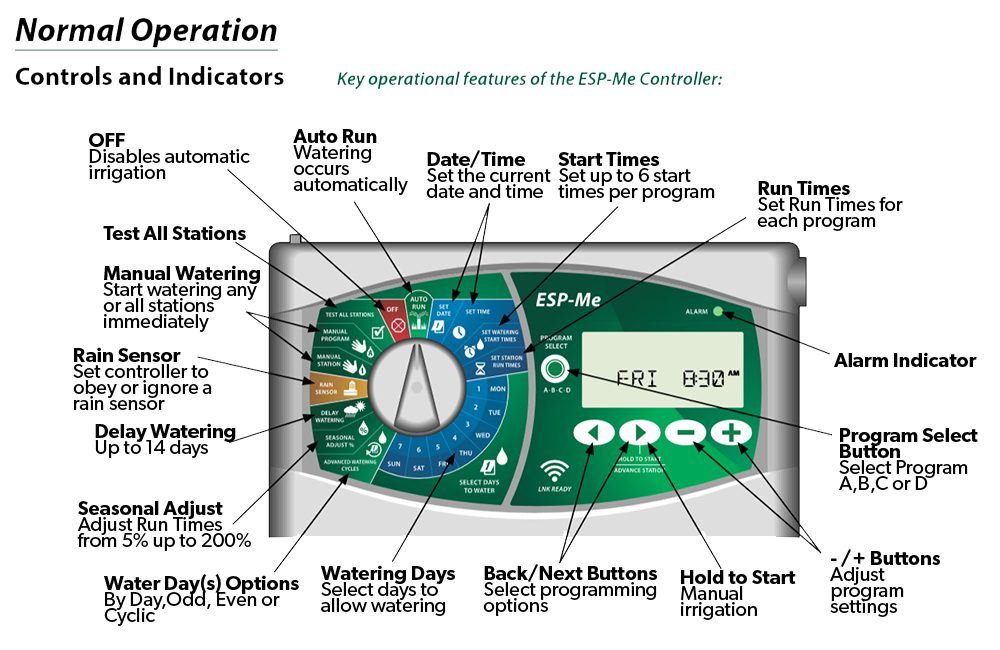 Station Expansion Modules
Optional Station Modules can be installed in the empty slots to the right of the Base Module to increase the station capacity up to 22 stations.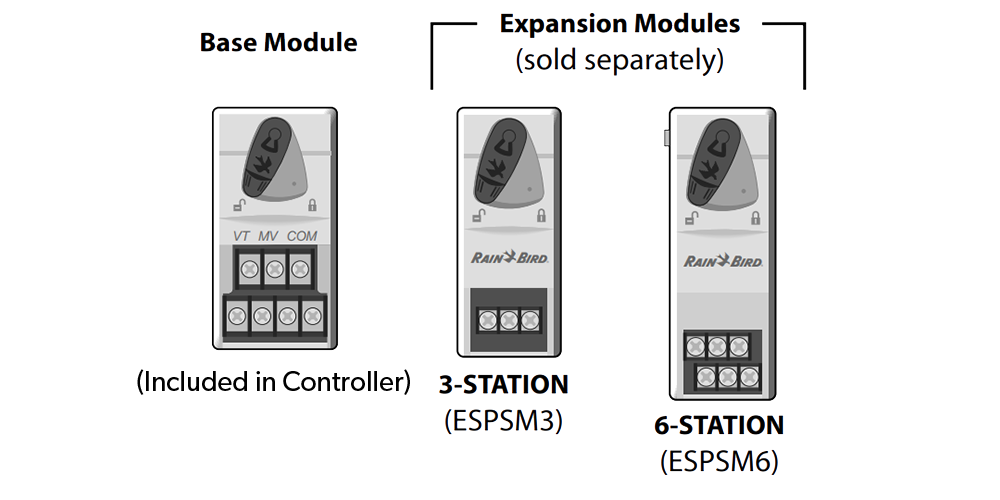 Note: 6-Station Modules are compatible withESP-ME3 and ESP-Me. They are not backwards compatible with the ESP-M vintage controller. For ideal station sequencing, insert 3-Station module after inserting all 6-station modules. For more details see the Owner's Manuals section.
Related Articles & Videos
Articles
Videos
Max Station Run Time (HRS):
Light Commercial, Residential
Remote Control Ready, WiFi
Residential and Light Commercial
We found other products you might like!