Sprinkler Magician Mosquito Killer Machine and Fertilizing
Zones: 6
Tank Size: 5 Gallons
Connects to Controller
Primary Use: Fertilizer and Insects
Features & Benefits
Sprinkler Magician Mosquito Killer Machine with Fertilizing - For up to 6 Zones Upgrade your lawn irrigation system by adding the new Sprinkler Magician Dual Reservoir Mosquito Killer Machine with fertilizing (fertigation) to your existing sprinkler system. Adding this patented breakthrough technology to your current sprinkler system turns it into a computerized full yard care system that kills and repels mosquitoes as well as keeping all your plants green and healthy. It is 100% Natural 100% Safe and 100% Automatic!
Many competitors' machines are ineffective and waste concentrate because they run anytime the sprinkler system is watering resulting in over dilution. Our unique and proven technology automatically takes control of your sprinkler system, running it briefly at optimum intervals after your lawn is watered to effectively treat for mosquitoes and other biting pests and fertilizes as well.
One reservoir in the dual reservoir machine dispenses our potent 100% natural Mosquito Magician Mosquito Killer concentrate to kill mosquitoes and other biting insects. The Mosquito Killer Concentrate is a potent blend of 6 all-natural essential oils: Cedar, Citronella, Lemon Grass, Garlic, Geraniol & Rosemary. The formula has been independently laboratory tested and proven to be effective at repelling and killing mosquitoes.
PLUS, this full-featured model has a second fertigation reservoir that dispenses organic fertilizer or your preferred liquid fertilizer; this naturally keeps your yard or garden lush and healthy all year long. This machine treats up to 6 zones.
Like the mosquito function, the fertilizer is injected precisely into the sprinkler system and is completely automatic. In fact, studies show liquid fertilizer is more effective and environmentally-friendly than other methods. Fertilizing occurs weekly and can be set to a low maintenance dose or a higher initial shock dosage.
Together, this machine delivers the most comprehensive total yard care package available anywhere. Just fill the reservoirs, set when you want it to treat and enjoy the results. The system will even warn you when either reservoir starts to run low! It's no wonder it works as our customers claim.
You, your sprinkler company, or a professional handyman can order and install the system, which is an add-on to your existing sprinkler system. It usually installs in a couple of hours.
Product Details
100% Automatic - set it & enjoy!
100% Safe & Natural - safe for kids, pets, and the environment
Long-lasting mosquito protection of up to 2 weeks - doesn't get washed off by rain
Uses Mosquito Magician concentrate with 6 all-natural active ingredients
Dual reservoirs so both functions are optimized and run independently
Operates using the existing sprinkler system
Automatically adds fertilizer to your sprinkler system
Easily run an Override treatment for mosquitoes if you are having a party, BBQ, etc.
Available in either 6 zones or 12 zone models, depending on how large your irrigation system is. It's wise to check this before you order.
Cycles through each irrigation zone injecting the precise amount of concentrate with the water - without over diluting or wastage
Handles Mosquitos, Fleas, Ticks, and Fire Ants for the whole yard, including grassy areas (these areas not covered by competitor's mosquito misting machines)
Suffocates mosquito larvae in standing water
Treats entire property with mosquito concentrate AND fertilizer
Zero maintenance - nothing to be cleaned or adjusted
Easy to operate: Just fill the reservoir and select the frequency of application
Compact all-in-one design so there are no unsightly 55-gallon drums (like some competitors use)
When the concentrate reservoir is empty a light flash to alert you - just add more concentrate and the machine will pick up where it left off
Competitively priced against mosquito misting systems - usually about 1/3rd the cost!
Over 1,000 systems running every day around the US and the Caribbean.
Built to last and proudly made in the USA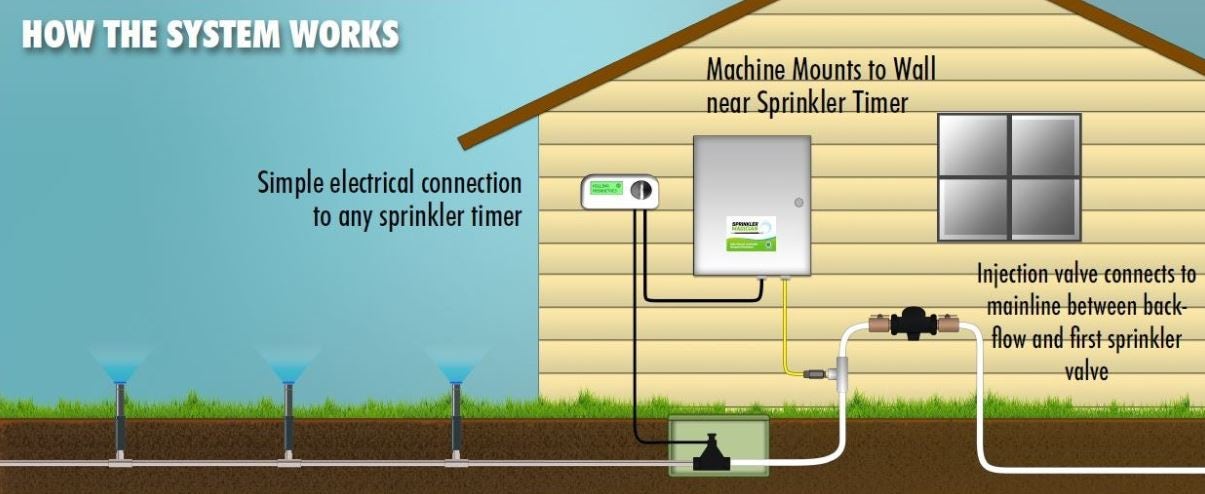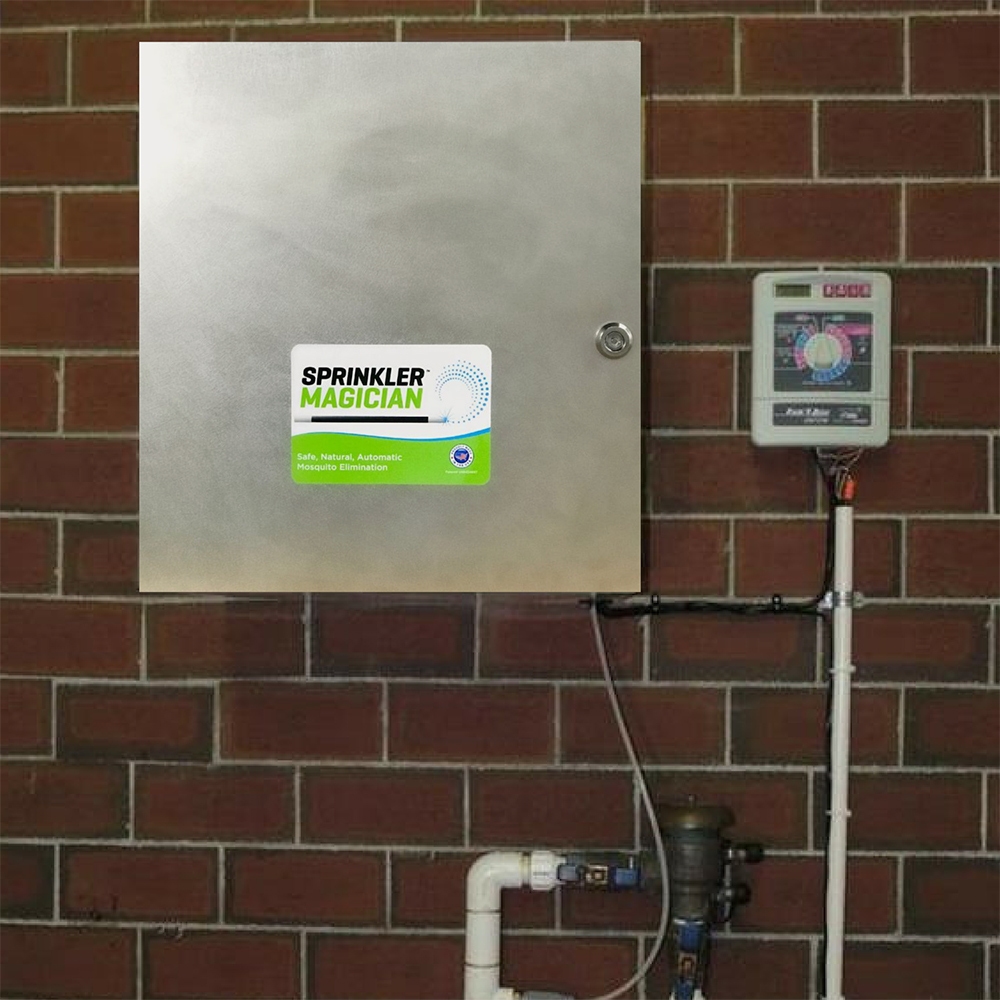 Fertilizer & Insecticde Tank
Above Ground Installation:
5 Stars, 4 Stars , 3 Stars , 2 Stars , 1 Star
Two in one
Was looking for a better way to spread fertilizer and opted for the dual system. Ended up resolving the flea problem and healthy green grass. All done without toxic chemicals and I'm happy about that ! L.H.
No more stinky aerosol sprays
For the first time we can entertain outside without guests complaining about mosquitoes bites or having to pass around the stinky aerosol spray bottle. Great for the kids and love the remote control feature to give the garden an extra squirt before entertaining. Fertilizer feature is simple and easy. Finally a cost effective solution that's not harmful to the family so we can enjoy open indoor/outdoor living spaces. Love it.