ESP-LXD Series Two-Wire
Decoder Controller
Your foundation for simple, decoder-based control. Building on the success of the popular ESP-LXM commercial controller, Rain Bird is pleased to introduce the new ESP-LXD controller. The ESP-LXD controller has been designed to maintain the look, feel and ease of programming of the ESP-LXM controller but with an interface to a two-wire path for decoder-based irrigation. The ESP-LXD controller can manage up to 50 stations but can easily be expanded for use with up to 200 stations. Flow Management is also built into every ESP-LXD controller.
Easy to Use
The ESP-LXD Controller utilizes the Rain Bird® ESP Extra Simple Programming user interface. The dial, switches, and buttons interface, which Rain Bird first introduced in the 1980s, is easy to learn and use and has become a standard controller interface for the irrigation industry. The large LCD display incorporates softkey text labels for the button functions rather than dedicated buttons.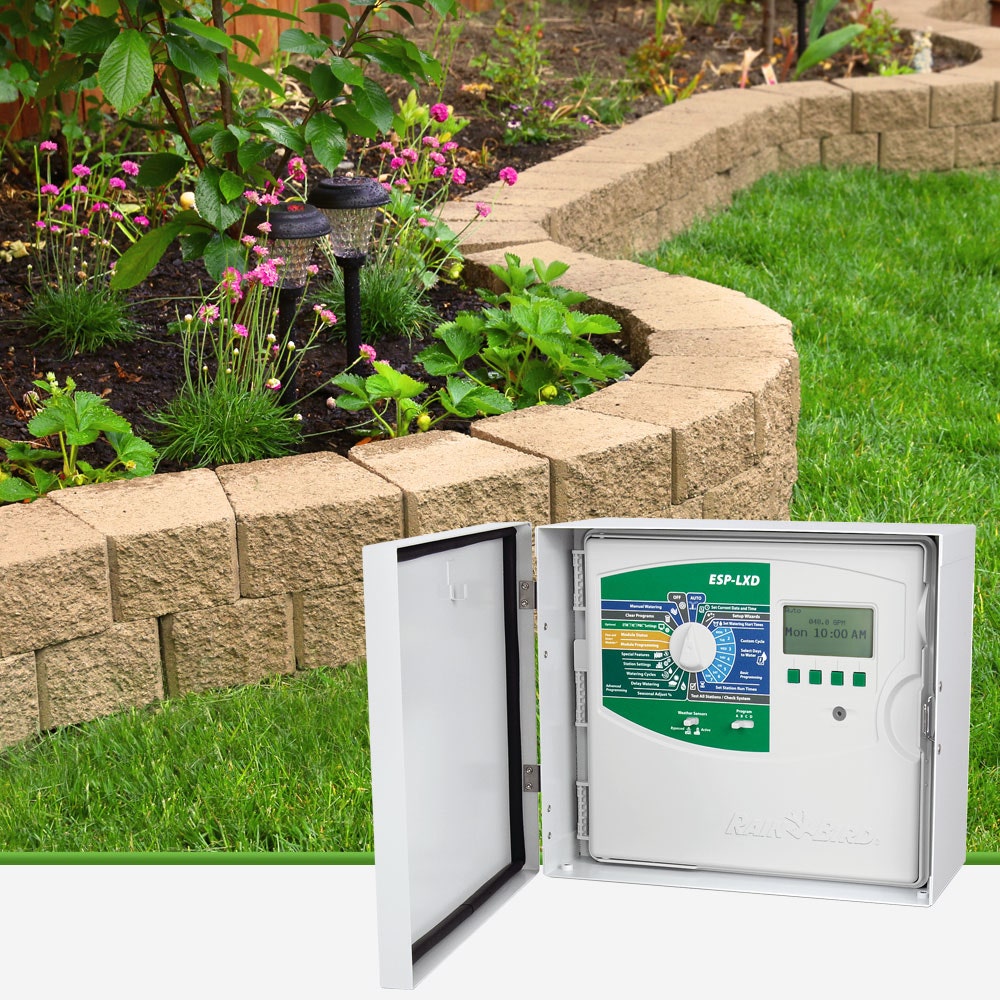 Easy to Install
The ESP-LXD Controller has a spacious case and eight lugs for up to four two-wire paths (which are all managed as a single two-wire path) making installation fast and easy. Multiple size wiring knockouts are provided on the bottom and back side of the case to adapt to a wide variety of wiring applications. The door and front panel are removable so the case can be easily mounted to the wall.
Advanced Features
From Cycle+Soak to Contractor Default Program, the ESP-LXD offers innovative features proven to cut installation expenses, troubleshooting time and water use.
Unprecedented Flexibility
A modular design makes the ESP-LXD the perfect fit for a range of large residential and commercial projects from the straightforward to the most complex.
200-Station Capacity
The ESP-LXD offers the ability to expand from 50 stations to up to 200 stations. So you can handle sites large or small, while stocking fewer controllers and components.
Built-In Flow Management
FloManager® ensures you don't overtax your water supply, while Flo-Watch quickly identifies and isolates high or low flow situations, such as mainline breaks.
Smart Approved Watermark
Rain Bird's ESP- LXD controller has received the Smart Approved Watermark. Established in Australia and recognized worldwide, this elite designation identifies products and services that help reduce water use.
Three-year trade warranty.

Product Details
Rain Bird recommends that the maximum irrigation zone cycle time be less than the time required for runoff to begin and that there be adequate soak time before the next irrigation cycle of that same zone begins again.
Controller Features
UV-resistant, outdoor-rated plastic, locking, wall-mount case
Uses the same decoder hardware as MDC, MDC2 and SiteControl
Supported decoders: FD-101TURF, FD-102TURF, FD-202TURF, FD-401TURF, FD-601TURF
Also supports SD-210TURF sensor decoders (flow sensing and weather sensor support) and LSP-1 line surge protectors (one per 500 feet of two-wire path required)
User-selectable six language support
50-station capability standard expandable via SM75 modules to 200 stations
Four sensor inputs (one wired plus up to three decoder-managed) with override switch
Programs can be backed up and restored with the optional PBC-LXD
New barcode scanner-based decoder address input with optional PBC-LXD
Water Management Features
Cycle+Soak™ by station
Rain Delay
Calendar Day Off
Programmable Delay Between Stations by program
Master Valve programmable by station
Sensor programmable by station
Program & Monthly Seasonal Adjust
Diagnostic Features
Programming prompts
Alarm light with external case lens
Electronic circuit breaker
Program review
Variable test program
Two-wire diagnostics to simplify and expedite troubleshooting
Operating Specifications
Station timing: 0 min to 12 hrs
Program level and global Monthly Seasonal Adjust; 0% to 300% (16 hrs maximum station run time)
4 independent programs (ABCD); ABC programs stack, ABCD overlap
8 start times per program
Program Day Cycles include Custom days of the week, Odd, Odd no 31st, Even, and Cyclical dates
Manual station, program, test program
Certifications
Upgrade Options
LXMM metal wall-mount case
LXMM-PED metal pedestal
ESP-LXD-SM75 75-station module
Electrical Specifications
Input required: 120 VAC ± 10%, 60Hz (International models: 230 VAC ± 10%, 50Hz; Australian Models: 240 VAC ± 10%, 50Hz)
Power back-up: Lithium coin-cell battery maintains time and date while nonvolatile memory maintains the schedule
Multi-valve station capacity: up to 2 solenoid valves per station; simultaneous operation of up to eight solenoids and/or master valves
Dimensions (W x H x D)
14.32" x 12.69" x 5.50" (36.4 x 32.2 x 14.0 cm)
Max Station Run Time (HRS):
Commercial, Light Commercial
Light Commercial and Commercial
Browse 2 questions
Browse 2 questions
I want the rain bird lxd technology but not 50 stations any suggestions?
Is the rain bird esplxd controller compatible with a red ?
We found other products you might like!