King Innovation Plastic Lateral Line Drain 1/2" MPT
Product Type: Lateral Line Drain
PVC Connection: Male Pipe Thread (MPT)
Size: 1/2"
Features & Benefits
King Drains preferred by Irrigation Professionals. During cold periods, water in your sprinkler system can be your worst enemy. Most experts recommend the addition of drains where freezing may affect the soil more than one foot deep. Along with winterization, strategically-placed drains insure against damage to your investment.
King Drains are designed to exceed the working pressures of all lateral or mainline installations. Fittings mount under sprinkler heads preventing freeze damage and low sprinkler head overflow. Valve protectors are engineered for installation adjacent to sensitive solenoid valves to prevent costly freeze cracking in the housing.
Soft grip ergonomic design combines main and lateral line drains
For use on sprinkler heads, valves and fittings
Complements end-of-season blow-outs
Automatic freeze protection drain
Ergonomic soft grip design makes for comfortable, slip-free installation
Compliments end of season blow-outs to remove residual water from irrigation systems and provide freeze protection
Utilized for both main and lateral line applications
Patented backflow check prevents contamination
Broad dispersing pad protects against root and soil penetration
Self-cleaning dirt arrestor screen prevents clogging of drain
Patented pressure sensitive valve releases water slowly at root level
Product Details
A. Self-cleaning Dirt Arrestor Screen
The raised screen prevents clogging of drain due to sediment and/or contaminants.
B. Patented Pressure Sensitive Valve
Releases water slowly at root level.
C. Patented Backflow Check
Eliminates potential freeze damage and backflow contamination by preventing water from re-entering system.
D. Ergonomic Design with Non-Corrosive Housing
Soft Grip ergonomic design provides easy and comfortable installation. Grip allows for better torque, and reduces hand fatigue and pain. The non-corrosive housing is injection molded with high impact polymer to ensure lifetime protection.
E. Broad Dispersing Pad
Keeps roots and soil from penetrating, minimizing the need for sumps.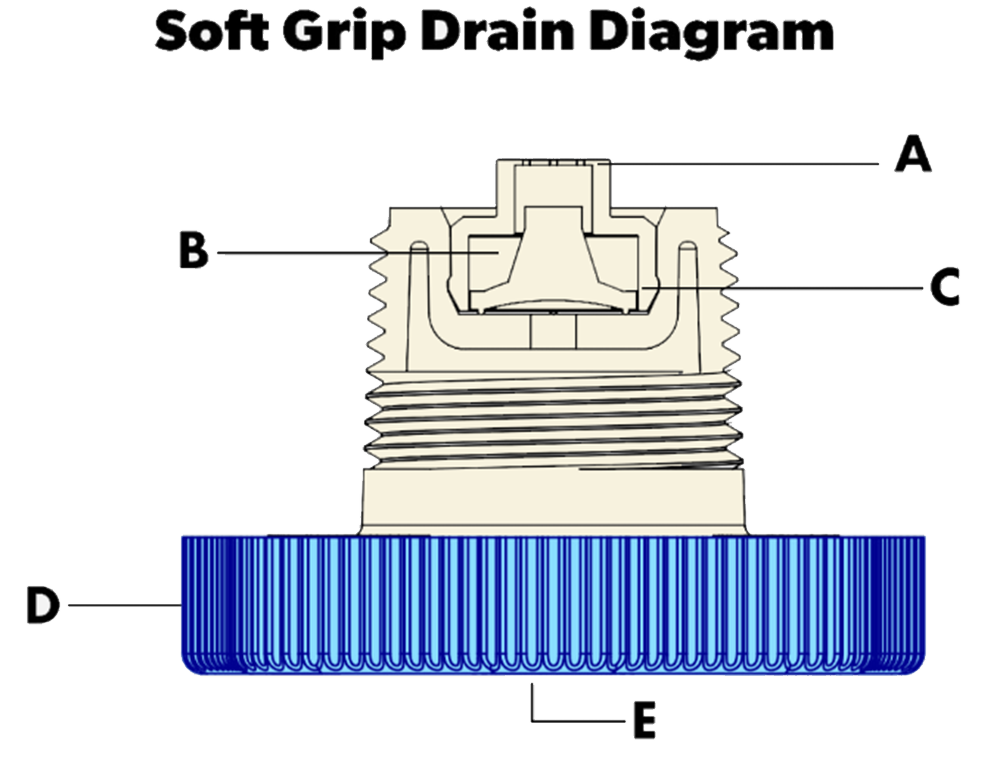 Installation Instructions
Install all "screw-in" King Drains on a 45-degree angle to ensure proper drainage of water from pipes. All King Drains can be installed with or without a gravel sump. For small diameter shorter lines a sump is not necessary. Larger and longer lines will drain more efficiently with a gravel sump. For elevation changes greater than 15 feet, install one King Drain at each 15-foot interval.
Browse 9 questions
Browse 9 questions and 34 answers
Why did you choose this?
SprinklerWarehouse.com

Store
I am installing a basic irrigation system and need a winterization solution.
helps drain out that left over water after cycles and over winter. NO more winter blowouts needed if installed correctly.