Blazing Waterproof Medium SnapLoc Connector
Snaploc wire connectors for two wire systems.
Strong wire restraint for direct bury
Silicone filled and remains rain-tight and water-tight.
Use in irrigation and landscape light applications, this waterproof, low voltage, silicone-filled connector is fast, reliable and safe to use. With its strong wire restraint, this connector is sure to be optimal for your next project.
Features & Benefits
For use in irrigation (BVS) and landscape lighting (BLS) applications
Waterproof
Low Voltage
Silicone filled connector
Safe, fast and reliable
Strong wire restraint
BVS1: Max 30V
BVS2: Max 30V
BLS10: Max 15V, 10AMPS
Product Details
Max. Voltage: 30V Max. building wire
Connector Size: 1.922" x 1.522"
Wire Type: Copper/Copper
Wire Range:
Large Hole Min #14/Max #12
Small Hole Min #20/Max #16
Temperature Rating: 105°C (221°F)
Silicone Sealant Temperature: -40°F to 400°F
Installation Instructions
IMPORTANT: Turn off power before installing or removing connector. Product to be used in accordance with local and national codes.
Strip wires to 11/16". Use one of the strip guides molded into the connector for reference. Pre-twist stranded wires.
Rotate handles fully apart beyond 90 degrees. Insert stripped wires into connector; #12-#14 in the large holes and #16-#20 in the small hole. Exposed ends of wires should be visible through the clear housing on the back.
Hold wires in place while squeezing handles together until the latch snaps shut.
Measurements
A - 1.922"
B - 1.522"
C - 1.355"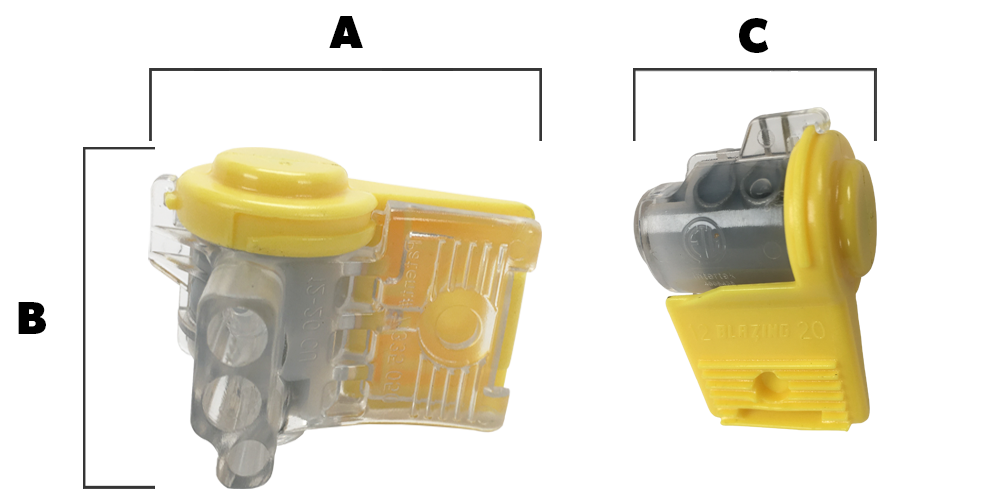 Related Articles & Videos
Articles
Videos