DIG 1/4" Black Drip Line
(6" Emitter Spacing) (.52 GPH) (100')
Coil Length: 100 ft
Flow Rate:0.52 GPH
Emitter Spacing: 6 inches



Features & Benefits

DIG 1/4" Microline™ Dripline is a versatile and flexible, UV-protected small-diameter Microline™ dripline that is suitable for a wide range of irrigation applications, both commercial and residential. The dripline may be installed above ground and covered with mulch or bark to conserve water or for aesthetic reasons.

Each of the .52 GPH drip emitters in the Microline™ dripline is built with a large filter along its cross section to ensure that moving particles on the bottom of the dripline do not enter the labyrinth water path, supporting trouble-free operation. The Microline™ dripline is available with emitters in 6", 9" or 12" spacing.

Microline™ can be used in loops around individual plants or trees, planter boxes, vegetable gardens, window boxes, box gardens, narrow paths of planting areas, or where total saturation is desired along the drip line path, while eliminating water staining of fences, windows and walls. It may be extended from the drip tubing or micro tubing using a 1/4" barb, or attached into our 4- or 6-outlet drip manifolds.

Used above ground or under mulch for a variety of applications such as containers and narrow plantings
Large labyrinth water passage and turbulent flow help reduce clogging
Inlet filter helps prevent particles from entering the drip emitter labyrinth path
Resistant to chemicals and fertilizers commonly used in landscape applications
Used with 1/4" (6 mm) barbed fittings
Flexible tubing for easy installation
Two outlets per drip emitter ensure less chance of clogging




Product Details

Nominal flow rates: .52 GPH (2 L/H) at 15 PSI (1 BAR)
Dripper color code: blue
Operating pressure: 10-25 PSI (.7-1.7 BAR)
Dripline color code: black
Materials: Dow FINGERPRINT™ DFDA-7510 NT linear low-density polyethylene resin
Size: 1/4" Tubing (.170 ID x .250 OD)
Minimum bending radius: 1' (.3 m)
Filter requirement: minimum of 150 mesh
6" Emitter Spacing (.52 GPH)
Non-Pressure Compensating

Individual Dripper Pressure vs.Flow

| Pressure(PSI) | Flow (GPH) | Pressure(BAR) | Flow (L/H) |
| --- | --- | --- | --- |
| 10 | 0.42 | 0.7 | 1.6 |
| 15 | 0.52 | 1.0 | 2.0 |
| 20 | 0.58 | 1.4 | 2.2 |
| 25 | 0.65 | 1.7 | 2.5 |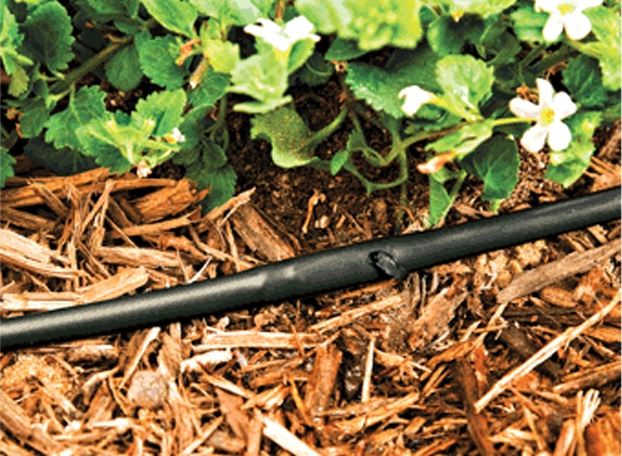 Maximum recommended length of single lateral 1/4" drip line @ 25 PSI

| Drip emitters spacing | 6 inches | 9 inches | 12 inches |
| --- | --- | --- | --- |
| Average flow rate | .62 GPH | .62 GPH | .62 GPH |
| Maximum length in feet | 16' | 22' | 28' |
| Flow rate in GPM | .33 | .30 | .29 |
| Flow rate in GPH | 19.8 | 18.2 | 17.4 |
| Number of drip emitters | 32 | 29 | 28 |
| Head loss in PSI | 5.5 | 6.4 | 7.6 |
| Velocity (f/s) | 4.7 | 4.3 | 4.1 |
Flow rate per 50' (15 m) at 15 PSI
(0.52 GPH per dripper)

| Dripper Spacing | Flow (GPM) | Flow (GPH) | LPM | Flow (L/H) |
| --- | --- | --- | --- | --- |
| 6" (15 cm) | 0.87 | 52.0 | 3.28 | 196.8 |
| 9" (23 cm) | 0.58 | 34.7 | 2.19 | 131.4 |
| 12" (30 cm) | 0.43 | 25.8 | 1.64 | 98.4 |
Browse 4 questions
Browse 4 questions and 26 answers
Two questions:
Can you use more emitters on a string of 1/4 inch Pressure Compensated line by not using a pressure regulator and just using full pressure? How many can 0.58 gallon emitters can you run on one 1/4 inch line this way and how many on the entire system?
Could it be that Pressure Compensation means that each emitter puts out the same output even if one is way down a hill from the other?
BEST ANSWER:
I have only used about 25 ft on a row, but with the pressure regulator I can run three lines equalling 75 ft. You might get enough pressure at the end of the 100 ft without the regulator, but depends on how far from the supply line and the size of the supply line to the 1/4 inch line.
In the phrase DIG ML-106 1/4 in. Black Non-PC Micro Drip Line , what does "Non-PC" mean? Thanks.
BEST ANSWER:
"PC" means Pressure Compensating so it's obvious the non-PC means the product is non-pressure compensating. To fully understand what the differences are I suggest you call the very friendly people at DIG customer service at 1-800-322-9146 or 760-727-0914.
Hope this helped.
What is the pressure rating on your 1/4" dripline?
BEST ANSWER:
Drip is meant to be sub 35 psi, Can you run it on household pressure, sure, I've done it, but the flow rate changes, so you have to take that into account. Dig's site says 60 PSI max rating.
William G

on Jan 27, 2015

Purchased on Apr 27, 2014
We found other products you might like!