Rain Bird ESP-TM2 8-Station Controller (WiFi Ready)
Zones: 8
Enclosure Type: Indoor/Outdoor
Sensor Compatible: Rain, Freeze
LNK WiFi Module Sold Separately
Features & Benefits
The ESP-TM2 irrigation controller is the perfect option for basic residential solutions. Building upon Rain Bird's legacy of The Intelligent Use of Water, this controller offers simple water saving features that you will actually use.
With the flexibility of 3 programs and 4 start times available per program, you can tailor your watering schedule to your landscape's needs.The ESP-TM2 provides the Extra Simple Programming interface you are familiar with in a controller that is built to last!
Quick to Install
Available in 4, 6, 8, and 12 station models
Suitable for indoor or outdoor installations
Factory installed 6 ft. outdoor rated power cord for your convenience
Simple to Program
Quickly program a schedule in just 3 steps
3 available programs (A, B, C) with up to 4 start times for each program
Simple one-touch manual watering
NEW large back-lit LCD display for improved visibility in low-light and direct sunlight conditions
Advanced Features
Contractor Default allows you to easily save and restore your custom schedule
Delay Watering up to 14 days and automatically resume watering after the set delay has elapsed
Bypass Rain Sensor for any station gives you the ability to customize which stations react to a rain sensor
Set Permanent Days Off per program to ensure watering never occurs on days when maintenance crews are on site (for Odd/Even/ Cyclic schedules)
Seasonal Adjust by program allows you to easily reduce or increase watering by program
Manual Watering option for all stations, a single station or an individual program
Seasonal Adjust applied to all programs or an individual program
Delay Watering up to 14 days (applies only to stations set to obey Rain sensor)
Permanent Days Off (for Odd, Even or Cyclic programming)
Sensor bypass for all programs or for individual stations
Adjustable delay between stations
Contractor Default Program Save and Restore saved program(s)
Master Valve on/off by station
Automatic short detect with station specific alarm messages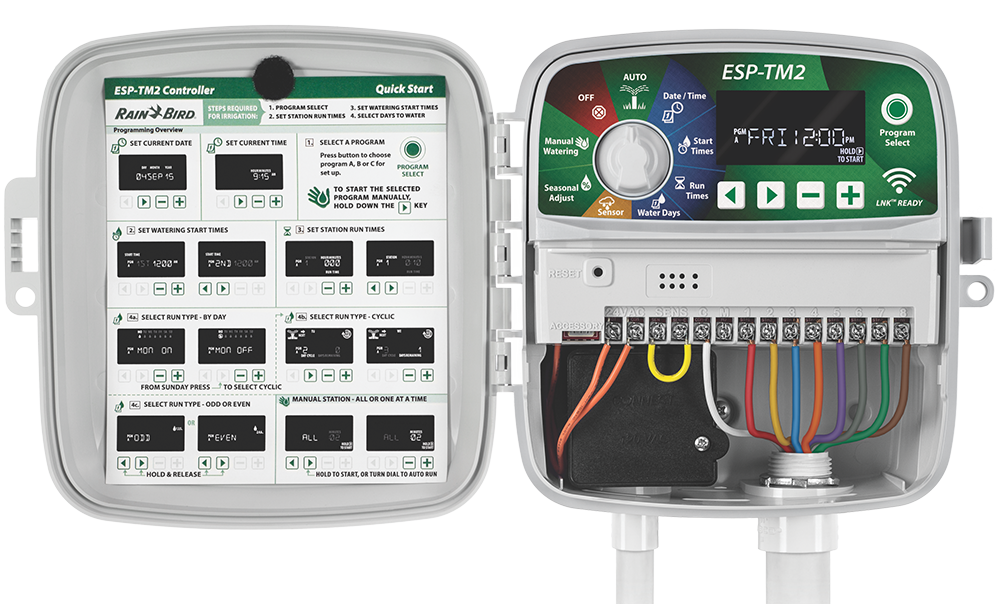 Controller Features
Familiar, easy to navigate user interface
Rain sensor input with bypass capability
Master valve/pump start circuit
Nonvolatile (100 year) storage memory
Electronic diagnostic circuit breaker
Remote accessory port for Rain Bird approved accessory devices
Scheduling Features
Program based scheduling with 3 individual programs and 4 independent start times per program for 12 total start times
Watering schedule options: Custom Days of the week, ODD or EVEN calendar days, or Cyclic (every 1 - 30 days)
Product Details
UL, cUL, FCC Part 15b, IP24
Dimensions
Width: 7.92 in. (20,1 cm)
Height: 7.86 in. (20,0 cm)
Depth: 3.51 in. (9,0 cm)
Operating Specifications
Station timing: 1 minute to 6 hours
Seasonal Adjust: 5% to 200%
Max operating temperature: 149°F (65°C)
Controller Hardware
Plastic wall-mount cabinet with door
Mounting screws with anchor shields
Factory installed pigtail
Electrical Specifications
Input required: 120VAC (10%) @ 60Hz
Output: 1A at 24VAC
Master Valve/Pump Start Relay
External battery back-up not required. Nonvolatile memory permanently saves the current programming and a 10 year life lithium battery maintains the controllers time and date during power outages.
Max Station Run Time (HRS):
Freeze Sensor Compatible:
We found other products you might like!